Deploying to a COVID19 site is not like going on your typical locums assignment. A need for more robust PPE, more austere conditions and a potential lack of resources at the site will make things more challenging. Learning from global health and humanitarian responses, this is a guide to help you be prepared before you go.
What are the new issues to consider?
There are many new issues that might cause trepidation when looking at the current state of the healthcare infrastructure as well as the projections of how things are going to advance. However, there will be little difference if you are going to offer your services at a facility a few blocks from your house or at a facility further away. Let's be calm, prepared and offer our services where we can make the biggest impact.
Having done numerous locum assignments most medical professionals have their own checklist of what to bring. Here are a few recommendations to assist you enhance your existing list and become better prepared for your COVID-19 mission.
How travel restrictions/bans will impact your ability to arrive to your assignment as well as your return home. Remember to bring some credentials you can show if you need to clear roadblocks or identify yourself as healthcare personnel and "medically necessary".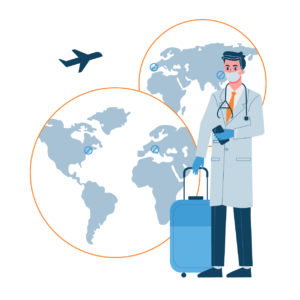 Traveling by air has the most possible restrictions and there are many issues to consider. The most important are:
Will air travel be an option when my travel date arrives?
Will I be able to fly home, after I conclude my assignment?
What are possible alternatives if my flight gets cancelled?
How will I get to/from the airport to my assignment site/home?
Although traveling by car has less possible restrictions, is not without problems and limitations. These are a few to consider:
What is my route look like (weather, access, etc.)?
Is my personal/rented car suitable for my specific trip?
Are gas stations open along the way?
Where will I sleep/rest along the way on longer trips?
Personnel shortages are one of the reasons why your skills are now more important than ever. Personnel shortages might also impact your ability to leave an assignment. What to know before you go:
When is my relief arriving?
What will happen if they are not able to arrive?
What is my backup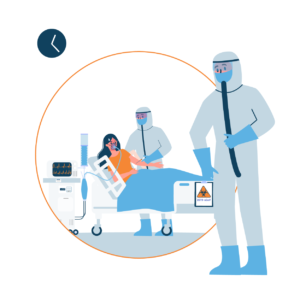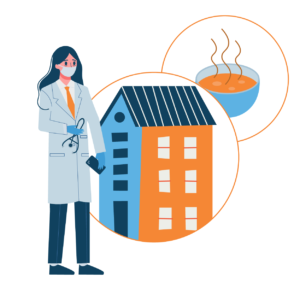 Dangers during your off hours
A hot shower, a clean bed, a hot meal, a familiar show and communication with loved ones are sometimes enough to relieve stress during your off hours and prepare you for your next shift while you are away on assignments. How to plan for a COVID-19 appointment:
Accommodation might become a challenge during the outbreak. This is what to research before your trip:
Do I have off-site or on-site accommodations?

Do I share quarters and if yes, with how many others?
Will my accommodation remain open for the duration of my stay?
Do I have a safe commute to and from work?
Will I have access to laundry?
As food access becomes more difficult ensuring safe meals for during and after your shifts is paramount. This is what to consider:
Am I able to get meals at my work location during my shift?

Will I have access to food on my off hours?
Do I need to bring my own food supplies?
What is the local availability of essentials?
Do I have a place where I can store pantry and/or refrigerated provisions?
How to return home and keep my loved ones safe
The exposure to pathogens during work is no different to working at a local facility and going home at the end of your shift. Depending on a personal comfort level, precautions to keeping your family protected vary. Here are a few options to consider: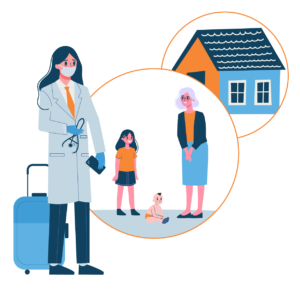 After you return home, stay in a separate room with no contact with the rest of the people in your household for 14 days
Either send your family or go to stay at a separate house/hotel for 14 days
Get tested at the end of your assignment
What happens if I get COVID-19?

Lastly, the biggest fear is getting sick. As healthcare professionals, we and our families are burdened with this worry more often than many other professions. What to ask before you leave for your COVID-19 placement: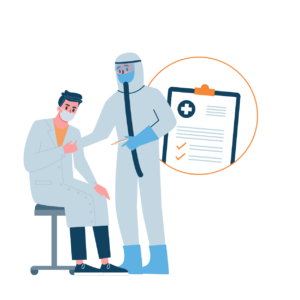 Am I insured? Is my health insurance plan up to date? Does it cover C-19 testing and medical bills?
Do I need to prove that exposure happened at the facility?
Does my workers compensation insurance covers C-19 related expenses?
Does my company pay for expenses and wages during a mandatory quarantine? How much? Are there any restrictions?
How to protect my family?

In these unprecedented times we are called to fight. As scared and uneasy as we are about the uncertain future we need to push through, united as healthcare professionals.
"If not you, then who? If not now, when?"
Are you ready for COVID-19?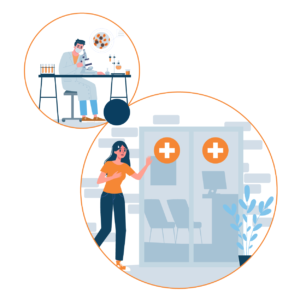 As many of you know, COVID-19 is looming largely. I am very proud of our profession and the opportunity we have in front of us. I believe this is what we do and why we trained so hard.
Being a locum tenant means learning new EHRs, meeting new people and working in facilities that we do not have complete familiarity with. I encourage all doctors to advocate for themselves, their patients and their facilities. Speak from a position of knowledge and leadership.
If you want to create a COVID-19 preparedness plan that is reassuring, accurate, and effective, contact AB Med today. Our experts are here to help!
The AB Med team is here for your facility and your community. We have the knowledge and experience to help you navigate through the challenges into a successful emergency plan
COVID-19 Disclaimer 
At AB Med, accuracy is our highest priority, and everything we publish is up-to-date based on research and news at the time of release. However, due to the continually evolving nature of COVID-19, we are aware that available data changes quickly. The available data and recommendations may have changed since this article's publication. Please check the CDC, WHO, and your local health department for the most current recommendations and news. 
By: Erik McLaughlin MD, MPH and Aikaterini Papadopoulou, B.Arch