As four major COVID-19 vaccines get closer to distribution, healthcare facilities need to be preparing for distribution. While the three major vaccines—from Moderna, Pfizer, and Oxford—have performed comparably in trials, the three vaccines have important differences in distribution and storage, meaning that facilities planning to distribute vaccines will need to have detailed plans to account for several important variables.
Here are a few of the most pressing considerations as we get closer to a vaccine.
Step 1: Register your facility with the CDC and Public Health Department.
In order to be eligible to distribute the COVID-19 vaccines, providers will need to register with the CDC and the Public Health Department, and complete required training on safe handling, storage, and distribution of the vaccine.
Step 2: Prepare for several types of the vaccine.
The four major types of vaccines largely differ in their storage requirements, their manufacturing, and where they have been tested. For example, the Oxford and Gamaleya (Sputnik V) vaccines are made from viral vectors, only require standard refrigeration, and are 62-90% effective for the Oxford vaccine and 92% effective for the Gamaleya. The Oxford vaccine is slated to be one of the earliest distributed due to ease of storage.
However, the Pfizer and Moderna vaccines both have 95% effectiveness in preliminary data, and are RNA-based vaccines—a new approach that has made headlines in recent weeks. However, these vaccines also have a downside: they require strict cold chain management to maintain required temperatures for storage— -70C for the Pfizer vaccine and -20 C for the Moderna.
Step 3: Have storage capability in mind-ultra low temp versus regular cold storage
The Pfizer and Moderna vaccines require deep cold storage, demanding specific cold chain procedures that maintain appropriate storage temperatures and record every step from shipment to injection of the vaccine. Shipments must be de-iced on arrival (vaccines are packed in dry ice), inspected, and moved to an ultra-low temperature freezer within one minute in order to preserve the integrity of the vaccine.
Step 4: Prepare distribution plan.
Although initial distribution in Phase 1 may primarily be through hospitals and large health facilities, successful vaccination plans also pay careful attention to partnerships with other organizations who can help distribute the vaccine quickly (especially in Phase 1) and accessibly (especially in Phase 2 and 3).
Potential partners include doctors' offices, pharmacies, community health centers, first responder organizations, tribal health centers, non-traditional health providers, housing services providers (homeless shelters, community housing, etc.), religious groups, schools and universities, and in-home care organizations.
However, healthcare facilities may also need to assist in coordinating mass vaccination sites, such as setting up vaccination locations in large stadiums and fields. In addition to having a plan for the logistics of setting up such a location, facilities should also be prepared to quickly onboard and train members of the medical labor force in how to safely handle and administer the COVID-19 vaccines. They should also plan for workforce management concerns, including PPE.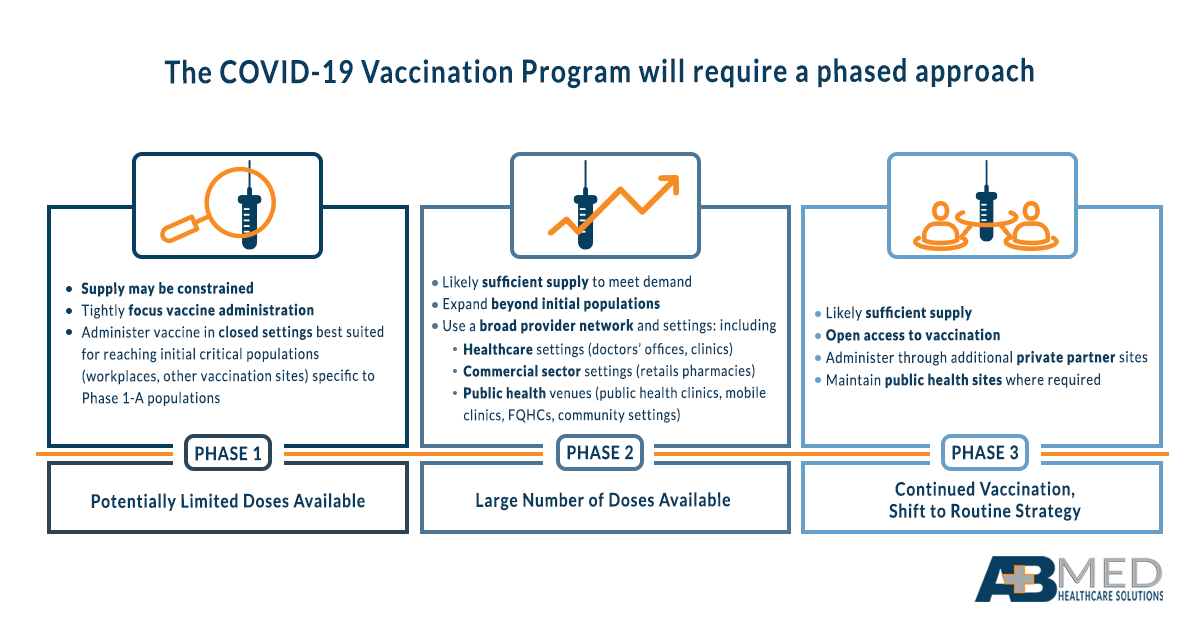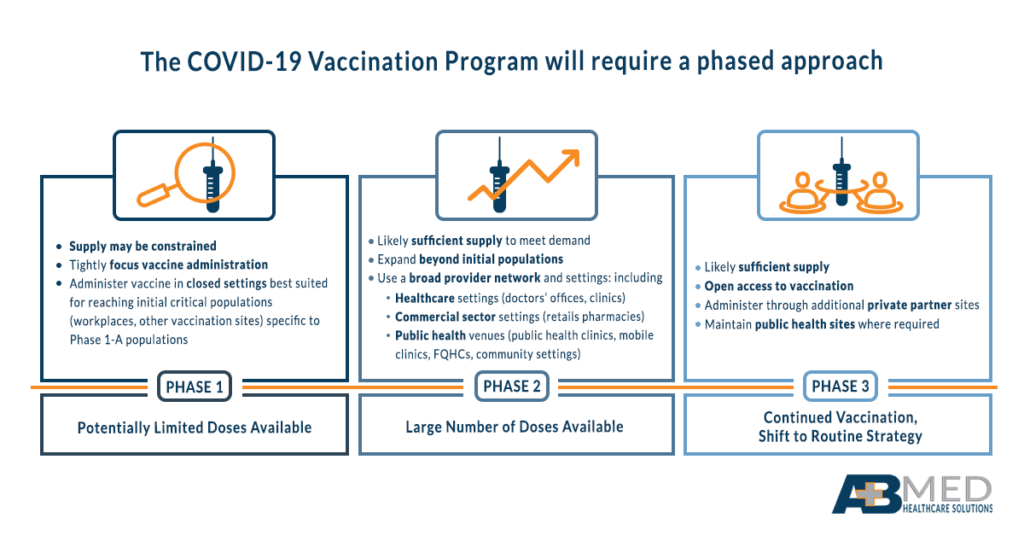 Step 5: Understand initial recipients of vaccine by tier
The CDC has indicated vaccine availability will roll out on a tiered system that is based on three phases of availability. Under Phase 1 availability (potentially limited supply of vaccine doses), recipients may include healthcare personnel (paid and unpaid), non-healthcare essential workers, high-risk adults who possess risk factors for severe COVID-19, and adults over 65. The primary concerns in Phase 1 should be the focus of comprehensive vaccine administration on populations with the most potential for impact. All facilities should have a plan in place that identifies critical populations in their service area and develops a targeted strategy to administer vaccines to those patients.
Phase 3 focuses on planning equitable vaccination across all populations, with vaccine administration networks continuing to expand. The focus in this phase, since supply of the vaccine will be at or higher than demand, is to ensure access and encourage uptake of the vaccine, especially in populations that may not always receive vaccines.
Step 6: Prepare for vaccine tracking and recordkeeping.
Another important component of a vaccination plan will be maintenance of tracking and recordkeeping processes. Aside from making sure all staff is trained in updating and educating patients about Immunization Information Systems (IIS) in general, facility plans should also pay careful attention to the legal requirements vaccine information sheets (VIS).
Providers will also need to explain and help patients enroll in V-Safe, the CDC's recordkeeping app that helps patients track side effects and other data after receiving the vaccine, the National Healthcare Safety Network (NHSN), and the FDA. This data will be crucial to further vaccine development, so gaining patient buy-in and participation will need to be a key part of vaccine distribution plans.
Recordkeeping for this vaccine also involves tracking vaccinations given, VIS use, storage protocols, staff training hours, and other pieces of data, so a robust recordkeeping system specific to the COVID-19 vaccination protocols will be crucial.
Step 7: Prepare communication to public. .
The CDC recommends beginning communication with the public about the COVID-19 vaccine as soon as possible. These communications include both digital and print communication tools as well as conversations between healthcare personnel and members of the public. From introducing the concept of the vaccine to answering common patient questions, your entire healthcare team will need to be consistent, accurate, and comprehensive in their communication in order to ensure that the public will feel comfortable and motivated to get the vaccine.
Internal communication plans will also be necessary, since healthcare personnel will need to be able to quickly respond to changing guidelines, varying levels of demand, and any security concerns related to vaccine distribution or storage.
As you think through the varying concerns and challenges that come with creating a comprehensive COVID-19 vaccine distribution plan for your facility, AB Med is here to help. Our experts are always up to date on the most recent, comprehensive guidelines and best practices around this vaccine, and we are happy to help at any stage of the process. Whether we're building your facility's plan from the ground up, assisting with a few parts of your plan, or providing consulting services to answer questions and provide quick, relevant expertise, we are ready to help your facility through this process. We know the success of the COVID-19 vaccine will take all of us, and we'd love to talk with you today about how we can help.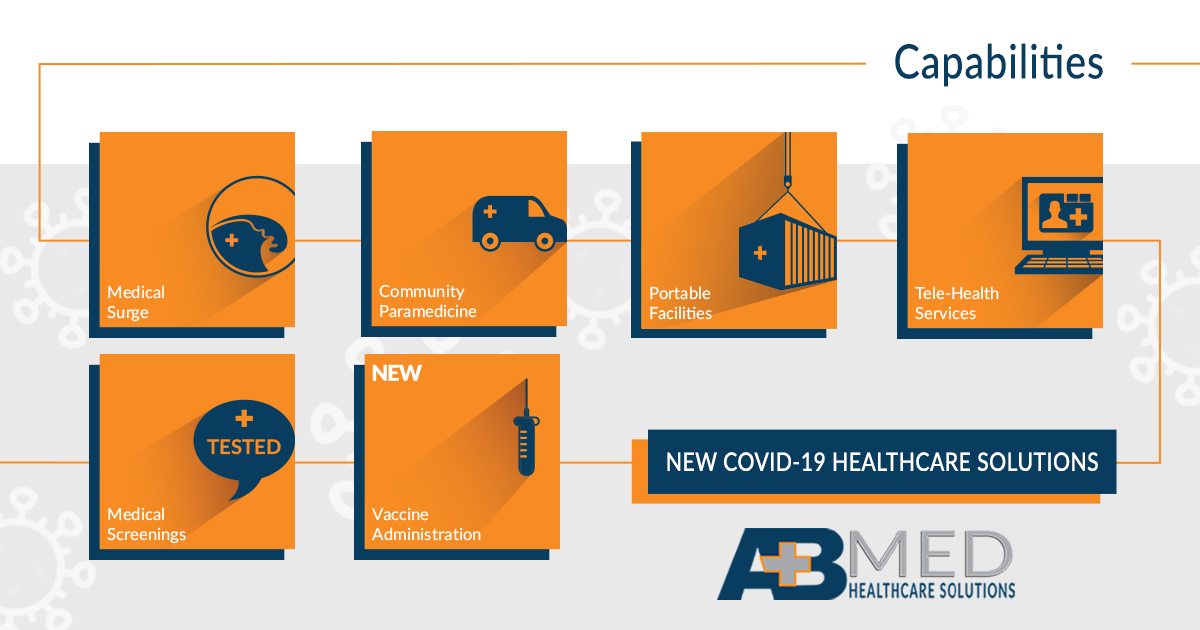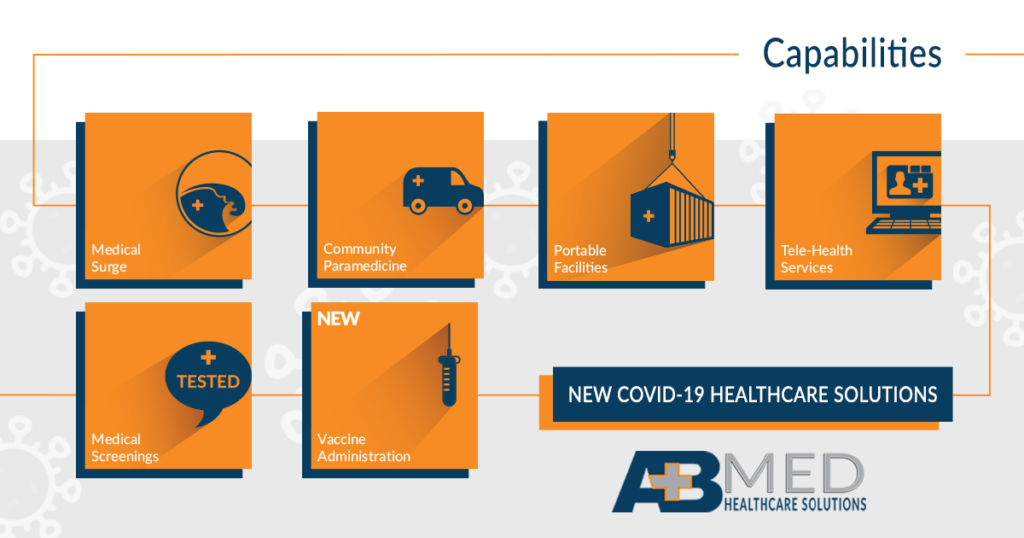 Our COVID-19 related performance ranges from keeping your patients healthy with vaccine administration and surge capability solutions to designing a customized screening service for your employees.
COVID-19 Disclaimer 
At AB Med, accuracy is our highest priority, and everything we publish is up-to-date based on research and news at the time of release. However, due to the continually evolving nature of COVID-19, we are aware that available data changes quickly. The available data and recommendations may have changed since this article's publication. Please check the CDC, WHO, and your local health department for the most current recommendations and news. 
By: Erik McLaughlin MD, MPH and Aikaterini Papadopoulou, B.Arch